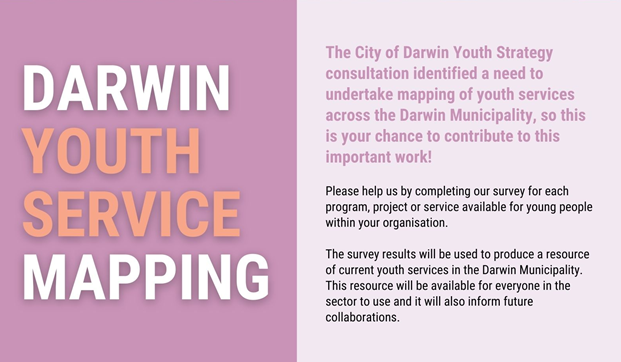 Date
Jun 15 - 24 2022
Expired!
Darwin Youth Service Mapping
The City of Darwin Youth Strategy consultation identified a need to undertaking mapping of youth services across the Darwin Municipality, so this is your chance to contribute to this important work!
Please complete this survey for each program, project or service available for young people within your organisation.
The survey results will be used to produce a resource of current youth services in the Darwin Municipality. This resource will be available for everyone in the sector to use. It will also inform future collaborations. Thank you for taking the time to complete this survey!
Please complete by Friday 24 June 2022.
This work is being undertaken by Britt Guy from Creative Accomplice.  If you have any questions please do not hesitate to contact me on britt@creativeaccomplice.com.au
For services with complicated multi layered programs I am happy to catch up online or in person to support completion. Just send me an email.
This work is funded through the City of Darwin's Quick Response Youth Engagement Grants.